Ting Yuan, 1881-1895: the Defeated Naval Giant
---

Ting Yuan, also known as Ting Yuen, and her sistership Chen Yuan were the fond men-of-war of Li Hung-chang who led China against Japan in 1894 and 1895. Reputed to be the largest and most powerful ironclad battleship in the Far East, Ting Yuan was naturally the vowed target of destruction for the Japanese navy whose naval war songs repeatedly alluded to her. At Weihaiwei, the once formidable Chinese fleet was wiped out, mainly by torpedo attack.

Essay in Chinese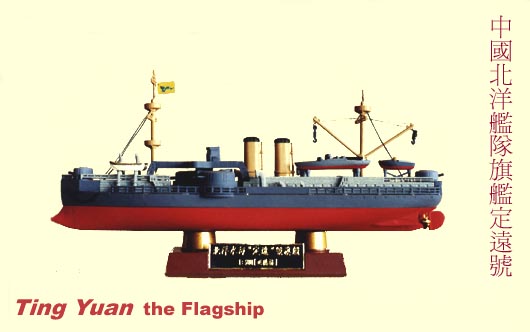 Plastic model of Ting Yuan. Scale 1:300. Model kit manufactured in China, and built by the Gardener in January 1999.
Colour scheme according to the illustration in Tony Gibbons, The Complete Encyclopedia of Battleships and Battlecruisers (London: Salamander Books, 1983), pp. 104-105.
Note the ram at the front of the hull. Perhaps it is for ramming into enemy ships in times of desperateness.
Builder
Vulkan Shipyard in Stettin, Germany
Launched
28 December 1881;
Delivered to China in 1885
Cost
6.2 million Marks
Captain
Liu Buchan
Crew
350
Displacement & dimensions
7,430 tons
308 ft x 59 ft x 20 ft
Armour
Compound 14 inch belt, etc.
Armament
4 x 12 inch Krupp guns,
2 x 5.9 inch Krupp guns,
3 x 13.8 inch torpedo tubes
Performance
15.7 knots (29.1 km/h)
coal 1,000 tons
Highlights of Ting Yuan's life
1886 & 1891: Visited Nagasaki and Yokohama, Japan. This perceived threat spurred Japan to build cruisers like Matsushima as a counter-measure.

17 September 1894: Led the Peiyang Fleet in the Battle of the Yellow Sea as the flagship of Admiral Ding Yuchang. Suffered damage as the whole deck was ablaze. However, her shells did hit the Japanese flagship Matsushima and other vessels.

Shortly after 2:00 AM, 5 February 1895: In Weihaiwei Harbour. Hit at the stern quarter on the port side (ie, left side) by one or two torpedoes from the Japanese torpedo boat No. 9. She had to be beached. According to a Japanese source, the Chinese officers subsequently blew it up at the funnel part, using 250 lb. of explosives, apparently fearing it would fall into enemy's hands. In the torpedo boat raids at night on 4-5 February, four Chinese warships were hit.

Some time after 12 February 1895: The Peiyang Fleet surrendered on 12 February. Now possessing everything in Weihaiwei, the Japanese naval personnel boarded Ting Yuan to examine her damage and took photographs. One of these photos shows her with her twin funnels gone. The same fate probably befell her twin pairs of 30-cm Krupp guns. Such damage was apparently the result of the blast set off by the Chinese.
The torpedo that sealed the fate of Ting Yuan was a product of L. Schwartzkopff & Co. of Berlin, Germany. With a diameter of 14 inches and of 581 lb. in weight, it carried 44 lb. of explosive at a speed of 21 knots, in a range of 650 yards. The Chinese navy also stocked this kind of German torpedoes.
For a history of the torpedo, see Gray, Edwyn. The Devil's Device: the Story of Robert Whitehead, Inventor of the Torpedo. (London: Seeley, 1975)
**
For a colour drawing of Ting Yuan, see The Complete Encyclopedia of Battleships and Battlecruisers, edited by Tony Gibbons (London: Salamander Books, c1983), pp. 104-105.

For a photograph of her after 5 February 1895, see Gaho Kindai Hyakunenshi, dai 6 shu, 1888-1895 (Tokyo: Nihon Tosho Senta, 1989 reprint) , pp. 478-479.

*

Go to Top

Previous page

Return to Front Page

Return to Bibliography

---
From the Gardener, Louis Chor. Canada, December 1997. Revised July 2015